Valladolid: a mini guide to Cenote Oxmán
26 September 2021
Cenote Oxmán is my favourite cenote in the Yucatán Peninsula. Swimming in these crystal clear waters, whilst being surrounded by lianas and lots of fish… it literally feels like a dream. It's just a short drive from Valladolid and deserves a top spot in your Mexico itinerary. Let me provide you with some tips and info about this cenote. Here's all you need to know before your visit!
n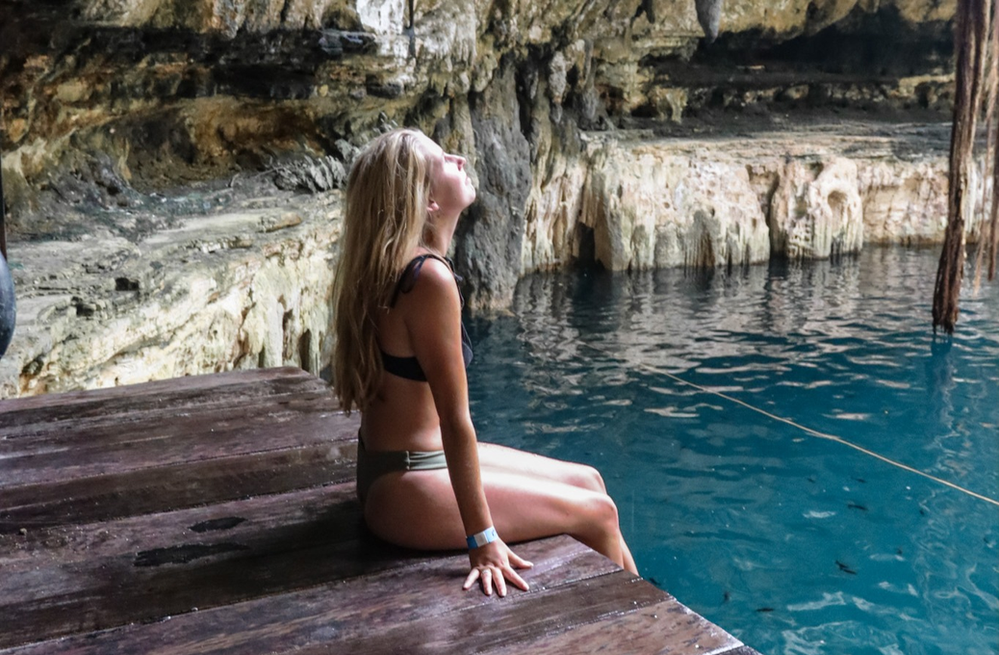 How to get there
n
Cenote San Lorenzo Oxmán is located about 4 km south of Valladolid and can be easily combined with Cenote Suytun. One of the many reasons to stay in Valladolid for a couple of days, is that you'll find many fun activities within just a short driving distance. There are three common ways to get to Cenote Oxmán from Valladolid:
nn
Car
n
It takes somewhere between 10-15 minutes to drive from Valladolid to Cenote Oxmán, depending on the location of the accommodation you're staying at. I stayed at Hotel Los Frailes (very helpful people at the reception, beautiful swimming pool, great prices!) and drove in about 10 minutes to the entrance of Cenote Oxmán.
nn
Bicycle
n
Cycling is another great option, since I've been told by Google Maps it's just a 15-20 min cycle. Keep in mind that if you opt for the quickest route, the road isn't very well maintained.
nn
Taxi
n
In case you don't possess a (rental) car or bicycle, a taxi is a great (and relatively cheap) alternative. To get back to your accommodation in Valladolid from Cenote Oxmán, just ask the restaurant or reception whether they could call you a cab.
n
n
n
Entry fee and opening hours
(August, 2021)
nn
Hacienda Oxmán is open from 10 am – 5 pm, meaning you can make use of all the facilities during that time. At the entrance, you've got to pay an entry fee of 150 Mexican pesos, which calculates to 6 euros. This can be paid by credit card (Visa/Mastercard) or with cash. You receive a bracelet that allows you to leave and enter the place throughout the day.
n
Facilities
n
The restaurant serves food and drinks, including sandwiches, snacks and hot meals. At the entrance, you could choose a slightly higher entrance fee, which then allows you to make use of the breakfast buffet as well. So if you'd like to get some food at Hacienda Oxman, opt for the cenote+food entry fee!
nn
Wearing a life jacket is mandatory at Cenote Oxmán. The life jackets are included in the entry fee.
nn
There are obviously bathrooms as well, and there's a free car park.
nn
Last but not least, what makes Cenote Oxmán my favourite is the rope swing! Feel like Tarzan or Jane for the day and swing into the cenote as pictured below.
n
n
n
Before you go
n
My main advice would be: go early. Just like at any tourist attraction, Cenote Oxmán gets pretty crowded around noon. If you go at 10 am, right when the doors open, you will be able to take some amazing photos and swim in the cenote with just a few others. After swimming in Cenote Oxmán for a couple of hours, it's the perfect timing to head over to Cenote Suytun for the magical light beam.
nn
Which gets us to the next point: bring your camera! It's a very photogenic location. Don't forget to take some photos from above as well. Cenote Oxmán doesn't charge you extra for bringing in cameras, unlike some other tourist sites in the Yucatán Peninsula.
nn
This location can only stay this pretty if we treat it accordingly. I know this isn't the best medical advice, but don't apply sunscreen. The chemicals in sunscreen can harm the environment. Luckily, you won't be exposed to direct sunlight too much in the cenote.
n
Looking for some more info about the Yucatán Peninsula? Have a look at my other blog articles about Mexico, or fly along to another destination! n
n
Do you have any questions about my travels, or do you see a great opportunity to collaborate? Feel free to send me an Instagram DM or email (floraflies.nl@gmail.com).
About Flora Flies
About Flora Flies – I believe travelling can be a way of living. A way to develop yourself. As long as you create yourself that opportunity. Slow solo travel is my answer to that.