Valladolid: a mini guide to Cenote Suytun
26 September 2021
Cenote Suytun is unarguably the most photogenic cenote in the Yucatán Peninsula. You've probably come across lots of Instagram photos of this place already. So had I, and I have to say this cenote certainly didn't disappoint me in real life. The magical beam of light is even more incredible in real life. Note that you've got to be lucky with the weather, though. You'll logically only see the most vibrant light beam if the sun's doing her job. I can't guarantee perfect weather, but I CAN provide you with some helpful tips and info for your visit to Cenote Suytun!
n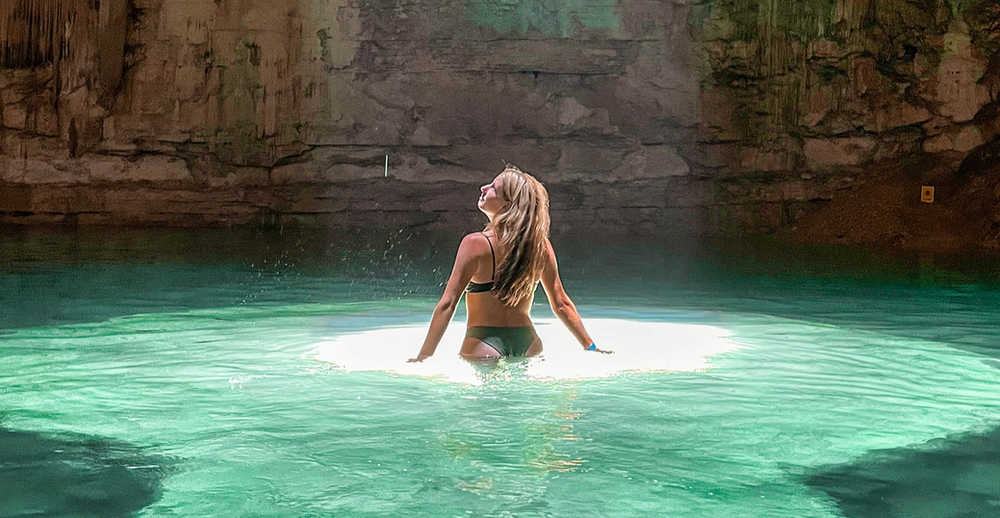 How to get there
n
Cenote Suytun is located about 8 km east of Valladolid. One of the many reasons to stay in Valladolid for a couple of days is that you'll find many fun activities within just a short driving distance. There are three common ways to get to Cenote Suytun from Valladolid:
nn
Car
n
It takes around 15 minutes to drive from Valladolid to Cenote Suytun, depending on the location of the accommodation you're staying at. I stayed at Hotel Los Frailes (very helpful people at the reception, beautiful swimming pool, great prices!). I combined visiting Cenote Oxmán with Cenote Suytun, with the driving distance between them being around 14 km (15-20 minutes).
nn
Bicycle
n
Cycling is an option as well. It should be around a 30-minute cycle. Keep in mind that there aren't any cycling paths here, meaning you'd have to cycle along the highway.
nn
Taxi
n
In case you don't possess a (rental) car or bicycle, a taxi is a great (and relatively cheap) alternative. To get back to your accommodation in Valladolid from Cenote Suytun, just ask the restaurant or reception whether they could call you a cab.
n
n
n
Entry fee and opening hours
(August, 2021)
nn
Cenote Suytun is open from 10 am – 5 pm, meaning you can make use of all the facilities during that time. At the entrance, you've got to pay an entry fee of 150 Mexican pesos, which calculates to 6 euros. This can be paid by credit card (Visa/Mastercard) or with cash. You receive a bracelet that allows you to leave and enter the place throughout the day.
n
Facilities
n
When you enter the property, you'll find several souvenir stands.
nn
There's an outdoor shower that everyone has to use before entering the cenote. This is common at many cenotes in the Yucatán Peninsula, since you get to rinse any chemicals off of your body that way.
nn
Wearing a life jacket is mandatory at Cenote Suytun. The life jackets are included in the entry fee. You don't have to wear them on the platform where you take the photos, though!
nn
There are obviously bathrooms as well, and there's a free car park.
nn
Close to the parking, you'll find a restaurant, which serves a buffet for economic prices!
n
n
n
Before you go
n
I'd normally recommend you to go early, because just like at any tourist attraction, Cenote Suytun gets pretty crowded around noon. At Cenote Suytun this isn't for no reason, though, since the light beam is perfectly located in the middle somewhere between 12:30 – 1:15 pm. To me, it's very much worth it to visit Cenote Suytun around that time of the day! Another pro is that you can combine your visit to Suytun with Oxmán (10 am) that way.
nn
Very obvious yet worth mentioning: bring your camera!* Like I said, Suytun is the most photogenic cenote out there. Don't forget to take some photos from above as well. Cenote Suytun luckily doesn't charge you extra for bringing in cameras, unlike some other tourist sites in the Yucatán Peninsula.
nn
This location can only stay this pretty if we treat it accordingly. I know this isn't the best medical advice, but don't apply sunscreen. The chemicals in sunscreen can harm the environment. Luckily, you won't be exposed to direct sunlight at all in this cenote. And you've got to rinse it off under the outdoor shower anyway!
n
Looking for some more info about the Yucatán Peninsula? Have a look at my other blog articles about Mexico, or fly along to another destination! n
n
Do you have any questions about my travels, or do you see a great opportunity to collaborate? Feel free to send me an Instagram DM or email (floraflies.nl@gmail.com).
nn
*note that the beam of light is gorgeous, but that it also makes it a very tough shooting condition. I couldn't manage to get the camera settings right on time – since there's a line of people waiting to get their photos as well – so the photos that you see on this page are all taken with an iPhone 12.
About Flora Flies
About Flora Flies – I believe travelling can be a way of living. A way to develop yourself. As long as you create yourself that opportunity. Slow solo travel is my answer to that.