Isla Holbox: 10x things to do on this colourful Mexican island
14 October 2021
I think I've left my heart in Holbox… Isla Holbox is a small island located north of Cancún. It only counts one town (Holbox), yet you won't get bored while staying here for a week. If you like disconnecting, white sand beaches and laid-back vibes, then this is the place for you. There are no cars to be found here, the main mode of transportation in and around town is by golf cart. ATMs sometimes just stop working or run out of money, so bring enough cash with you before your visit. Don't expect any great functioning internet either, as service often gets lost on the island. Luckily, there's a lot of things to do here that you don't need any Wi-Fi for anyway!
n
Street art
n
Punta Mosquito
n
Cycling
n
Golf cart
n
Sunset hotspot
n
Refugio Animal Holbox
n
Whale sharks
n
Kitesurfing
n
Punta Cocos
n
Secluded beaches
n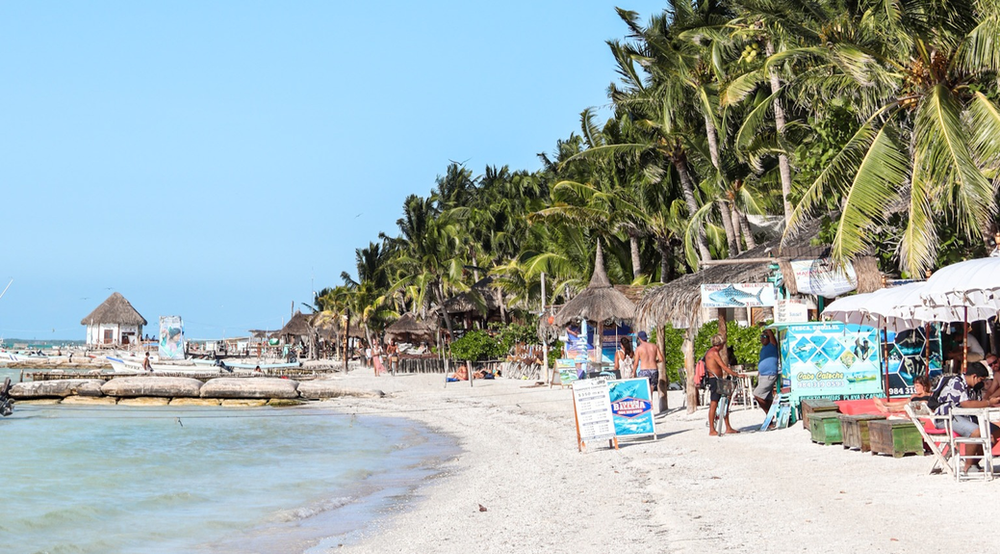 #1 Go on the hunt for the best street art
n
Holbox Pueblo has some of the best street art. In 2014, the International Public Art Festival took place on the island. Ever since, it's been a street art lover's paradise. All the murals have their own story behind them. You wouldn't even need Google Maps to find them, as you come across a different colourful mural around every corner!
n
#2 Walk all the way to Punta Mosquito
n
Holbox is part of the nature reserve called Yuk Balam. There's a lot of wildlife here. From the public beach in town, a sandbank reaches all the way to Punta Mosquito, so you can actually walk there via the shallow ocean! You can only actually reach Punta Mosquito with a guide, but you could also just enjoy the sceneries till about halfway by yourself.
n
n
n
#3 Rent a bicycle
n
To me, biking is always the best way to get around in smaller places. You're even allowed to bike on the beach here, which is an experience on its own already. It also makes it a great vehicle to spot all the street art in town. I rented mine at Bikes Holbox. You can even request to let them drop your bikes off at your accommodation!
n
#4 Rent a golf cart
n
Since the golf carts are a thing on the island, you basically need to hop on one! Taxis here are in the form of golf carts and you only pay 100-300 pesos (depending on the distance) for a ride. What might even be funnier is renting a golf cart yourself! I rented one at Monkey's Golf Cart Rental, but I can't really recommend them in terms of service. I'm not sure if there are other parties renting golf carts as well, but if there are, go with them!
n
n
n
#5 Enjoy drinks during sunset at Hotel Zomay Holbox
n
Holbox is known for having the best sunsets of Quintana Roo since the main beaches are on the west side of the island. One of my favourite spots to watch it was at Hotel Zomay Holbox. Every night, a bunch of travellers gather here to witness the sky turning into all shades of pink.
n
#6 Help out at Refugio Animal Holbox
n
The amount of stray dogs in Mexico is shocking for me as a Dutchie. Yet, here at Refugio Animal Holbox, they provide shelter for all of them. They make sure there are no stray dogs on the island, which is amazing. They obviously need the right resources to take care of all the dogs (as well as cats and other animals) that they have at the refugee. You can stop by to make a donation, bring some toys/treats for the animals, and/or you could help them out by walking with one of the dogs!
n
n
n
#7 Swim with whale sharks
n
Holbox is actually one of the few places from where you can go on a whale shark tour. Keep in mind that it's still a 2-3 hour (bumpy) boat ride to get to the location though, but from what I've heard, it should be so worth it!
n
#8 Go kitesurfing
n
If the weather allows it, Holbox is an amazing place to go kitesurfing. Whether it's your first time and you'd like to take classes, or if you're experienced and just like to rent the gear, Holbox is a perfect fit. The water is crystal clear, the ocean a bit shallow and there usually is enough wind.
n
n
n
#9 Enjoy the views from Punta Cocos
n
On the most western part of the island, you'll find Punta Cocos. There's just one small bar here, some swings/places to sit at, and you can see the mainland from here. Another great spot to enjoy the sunset from!
n
#10 Chill at the quieter beaches west of town
n
The main public beach can get pretty crowded, so even though you'll find the best bars and restaurants here, I can also recommend you to walk to the beaches west of town! It's quieter here, meaning you have the ocean for yourself sometimes.
n
Looking for some more info about the Yucatán Peninsula? Have a look at my other blog articles about Mexico, or fly along to another destination! n
n
Do you have any questions about my travels, or do you see a great opportunity to collaborate? Feel free to send me an Instagram DM or email (floraflies.nl@gmail.com).
About Flora Flies
About Flora Flies – I believe travelling can be a way of living. A way to develop yourself. As long as you create yourself that opportunity. Slow solo travel is my answer to that.