Salto de Malacatiupan: The perfect day trip from Santa Ana
27 January 2022
Santa Ana was one of my favourite stops in El Salvador. It's the second-biggest city in the country, but it still feels more like a town if you walk around the city centre. Santa Ana is also the perfect base for a couple of day trips. One of them being a visit to Salto de Malacatiupan. It's a waterfall and a hot spring, which is a pretty unique combination! At first glance, getting there seems to be as difficult as the pronunciation of the place, so in this guide, I'll tell you everything you need to know before your visit. You'll see it's actually fairly easy to get to Salto de Malacatiupan and the super friendly Salvadorans are more than happy to help you out with your Spanish pronunciation as you go…
n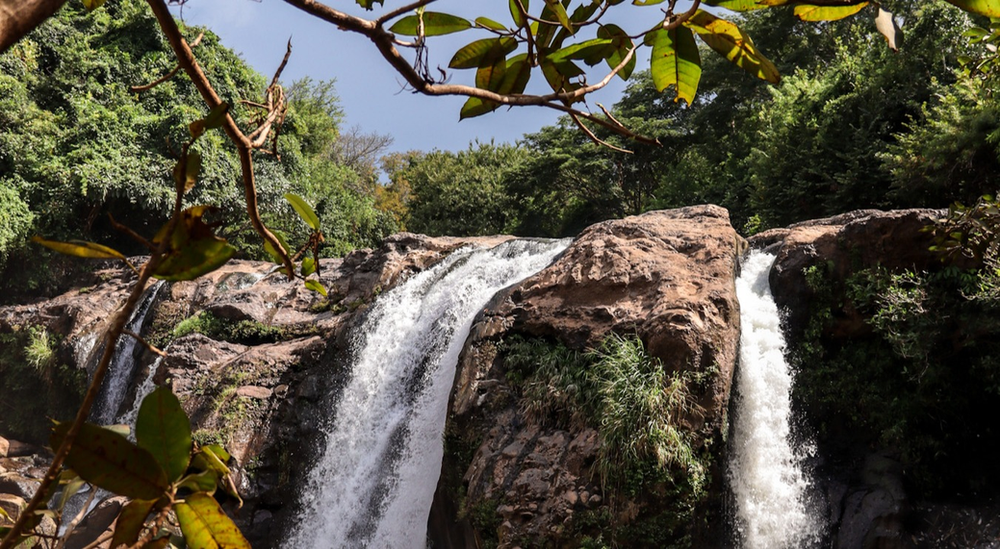 How to get there
n
Bus
nn
Bus 210 leaves from the bus station called Francisco Lara Pineda, which is located behind the market. Verify at your hostel at what times the bus departs. Bus 210 brings you to a nice town called Atiquizaya for only $0.50. It will drop you off at Parque San Juan, from where you've got to walk 5-10 minutes to Parque 5 de Noviembre. The next bus ($0.50) to Salto de Malacatiupan departs in front of Residencia de Ancianos. Locals will be more than willing to point you in the right direction!
nn
Keep in mind that the last bus from Salto de Malacatiupan back to Atiquizaya leaves at 4:00 pm. We'd been waiting at the entrance for about half an hour (from 3:45-4:15) and as we were on the edge of losing faith that we would make it back to Santa Ana, we were very lucky we could hitch a ride with locals who were heading to Santa Ana as well! I'd say hitchhiking is very common and safe in El Salvador, as many people drive pickup trucks and are happy to have you in the back of their car. You should of course always be cautious and never step into a car if you don't feel comfortable with it!
n
n
n
Entry fee and opening hours
(October, 2021)
nn
Salto de Malacatiupan is accessible for everyone, at any time. I feel like you could just walk towards the waterfall without paying an official entry fee, as there's no ticket counter. As we entered the site, there was a local who charged us $1 per person. I still don't really know whether that's an official entry fee, but I would have happily paid this guy more!
n
Before you go
n
Keep in mind that other than a free car park, there are hardly any on-site facilities. So bring some snacks and plenty of water!
nn
The water has a temperature of around 35-40 degrees Celsius, which isn't that refreshing on a hot and sunny day. Go early if you'd like to properly enjoy a dip in the water.
nn
I can recommend wearing waterproof footwear. I wore my Teva sandals, which was very convenient as I had more grip while walking around the river and falls. My friends were wearing sneakers or flip-flops, and they would just walk barefoot, so that's definitely doable as well! Just be careful when you go to the small pool next to the waterfall, as that part gets very slippery.
n
n
n
Looking for some more info about this part of the world? Have a look at my other destinations in Latin America.n
n
Do you have any questions about my travels, or do you see a great opportunity to collaborate? Feel free to send me an Instagram DM or email (floraflies.nl@gmail.com).
About Flora Flies
About Flora Flies – I believe travelling can be a way of living. A way to develop yourself. As long as you create yourself that opportunity. Slow solo travel is my answer to that.