The best hostels in El Salvador for solo travellers
4 May 2023
Hostel life in El Salvador is not as popular as in Guatemala or Nicaragua (yet), but it is still a great budget option! You'll see that the hostel owners and receptionists are more than happy to help you find activities or public transport. So to my fellow solo travellers: don't let anyone stop you from visiting El Salvador! I've listed my hostel recommendations below.
Santa Ana
Ruta de las Flores
El Tunco
San Salvador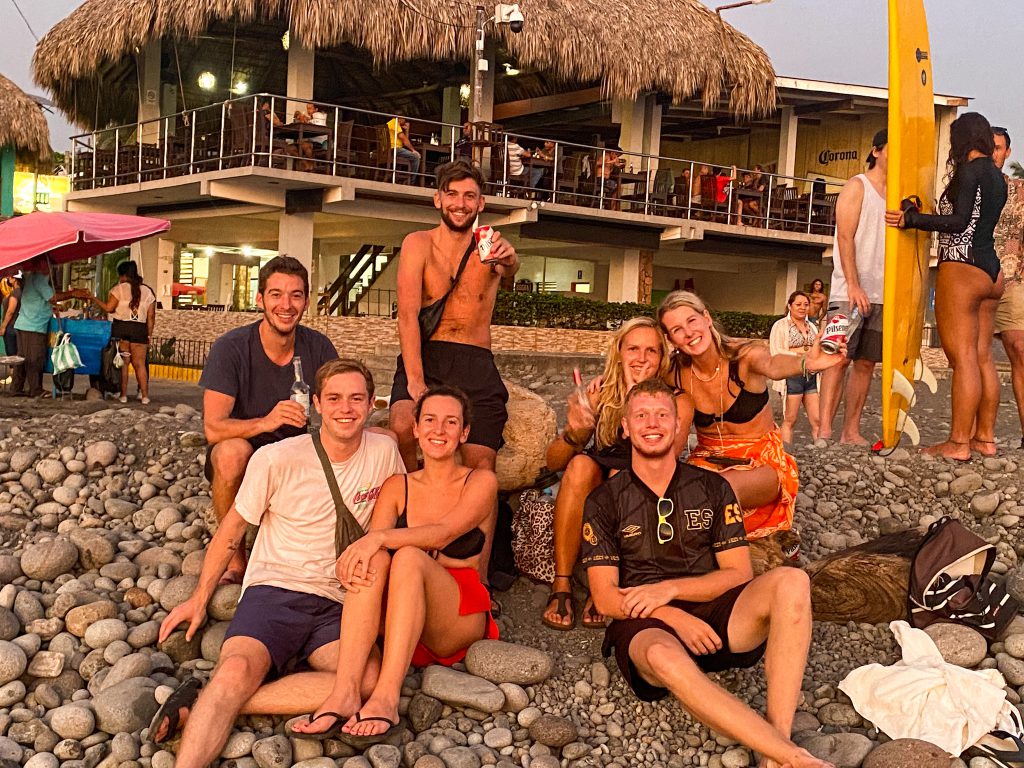 Also read: El Salvador: 2-week backpacking route
Santa Ana
La Casa Verde Hostel
This hostel is located close to the local markets and the bus station. Here you'll find a small communal kitchen, a large communal room (both indoors and outdoors) and even a swimming pool. Oscar is an incredibly nice owner, who is more than happy to give you recommendations for both Santa Ana and other places in the country – and how to get there. The hostel has a small restaurant where you can eat, but you can also place an order from the communal area of ​​the hostel!
Swimming pool in the patio
Communal kitchen
Restaurant
Regular beds (instead of bunks)
Book your stay through Hostelworld
Book your stay through Booking
Pool House Hostel
I haven't stayed in this hostel myself, but a fellow solo traveller I know has. Since we often have the same taste when it comes to our Central America travels, I'm confident in recommending this hostel based on her experience. According to Sophie, this hostel has a great kitchen, a swimming pool and a very sweet host as well!
Book your stay through Hostelworld
Book your stay through Booking
Ruta de las Flores
Hostel Jardin Hostal (Apaneca)
This hostel also has a friendly owner who is very willing to help you. This is probably just Salvadoran hospitality. The facilities are basic, and it feels more like a small hotel than a hostel, but it's a cheap and nice option, conveniently located in one of the villages on the flower route.
No kitchen
Restaurant
Small balcony
No hostel atmosphere
El Tunco
Papaya Lodge
I was a little less amused by this hostel, but that may be because El Salvador was still suffering from the corona pandemic during my stay in 2021. I still recommend this hostel because the location is great, as well as the swimming pool! Other than that, this hostel seems to be the most popular among backpackers in El Tunco. You can use the communal kitchen, but you can also pay a fee for a delicious breakfast.
Swimming pool with sunbeds
Good Wi-Fi
Multiple seating areas throughout the hostel
Less than a 5-minute walk to the beach
Book your stay through Booking
San Salvador
La Zona Hostel
This nice hostel is located in a modern neighbourhood in San Salvador, which even reminded me a bit of the United States. It is a social hostel, with a nice shared kitchen, where breakfast is served in the morning for a small price. The bunk beds have privacy, there are large lockers in the room and the toilets and showers are outside the room.
Communal kitchen
Bunk beds with curtain
Optional breakfast
Safe location and entrance
Book your stay through Hostelworld
Are you planning a backpacking trip around Latin America? Have a look at my other destinations in Latin America.
Do you have any questions about my travels, or do you see a great opportunity to collaborate? Feel free to send me a message on Instagram DM or email: floraflies.nl@gmail.com.
About Flora Flies
About Flora Flies – I believe travelling can be a way of living. A way to develop yourself. As long as you create yourself that opportunity. Slow solo travel is my answer to that.